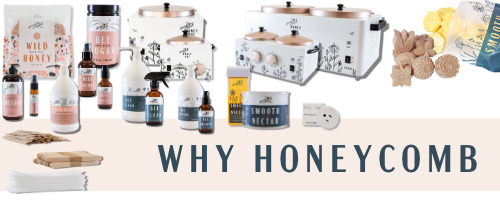 We are a USA-based depilatory wax manufacturer of both hard and soft wax and professional spa supply. Our products quality, price, and customer service are a bit un-BEE-lieveable (but it's no joke, we are serious about this beauty thing).
Made for Estheticians, by an esthetician, these products weren't just pulled together overnight. In most cases, Diana failed 50+ times before she found success. We hope that you love our 51st, but we will keep getting better. It's just what we do.
Being the first depilatory wax company to offer subscription-based products and discounts, our program was created to be super-easy to manage. You get your own account portal where you can view all necessary information and can change anything in the blink of an eye.
Honeycomb Wax Company was built from the ground up to help you grow your business. Our blog provides a plethora of valuable tips on how to do just that. Plus, we can supply practically any quantity of wax along with warmers and complimentary products, keeping up perfectly as your needs grow!

Diana Kissinger - Founder, Co-Owner
Diana is a highly experienced esthetician and mom of four beautiful children. She is passionate about the beauty industry but more passionate about getting her customers top-quality products for the best price. Diana created Honeycomb Wax Company and is also our top formulator and manufacturer. She designs all of our products in-house.
Benjamin Glick - Co-Owner, CFO
Benjamin spent much of his career building relationships until he ventured into financial services. He is an accountant by trade and also shines with his customer service skills. He manages the customer service department, marketing, and acquisitions.
Rand Richter - Co-Owner, CRO
Rand is a long-time family friend and kind of a technical genius. He specializes in web development, overseeing the front and back end of the website. He helps drive innovation and automation while providing critical insights into sales, marketing, and strategy.
Honeycomb's wax products are uniquely designed by our top formulator and undergo rigorous quality control before ever leaving the warehouse. We believe that mother nature has given us everything we need to survive, including what we use as professionals. Our products contain no phthalates, sulfates, parabens, synthetic dyes, or artificial fragrances. Diana consistently says "No" to all harsh plastics and chemicals for our products.
Our wax is a low-temperature wax, which is unique to our industry. It stays flexible well past the set time and can be applied in many different ways while still getting the hair every time. Although our selection of waxes is limited, you also don't need different kinds of wax to get the job done right the first time.

You will never need another type of wax when you use ours for your clients. By combining our Wild Honey & Smooth Nectar waxes with our simple 2 step pre and post prep, you'll have a smooth application every time and you won't burn a hole in your pocketbook doing it.
We offer many different sizes and packaging to fit your business needs. If there is anything you don't see on our site, please get in touch with us at support@honeycombwaxco.com.
Every person in the beauty industry should have the greatest opportunity to succeed. This is why we created our ambassador program. You can become a bigger part of Honeycomb and earn extra money. Apply for the Honeycomb Ambassador Program today.